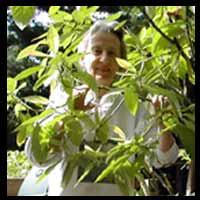 In September of 2010 I made a major life change. I sold my house in Maine and moved to Florida.
Many new beautiful flowers awaited scanning! A page of just Florida Flowers can be seen on a link from the Flowers Page.
Also, I have recently started trying to do some macro scans, scanning at more than double the usual resolution. There have been some fun results and I now have a new category entitled Macro Scans.
NatureScan Gifts Brochure
Request a brochure by sending an e-mail to one of the following.
Web Sales:
Sales@naturescanart.com
E-Mail:
naturescan@yahoo.com

NatureScan began as a dream – a real dream! Barbara Guidotti dreamt one night that she put real seashells on her scanner. She tried it the next day and was so excited with the results that she's been scanning bits of nature ever since. By learning to use the composition of the materials, the backgrounds (i.e. paper, scarves, real bark) and the light of the scanner, Barbara's scan art has achieved some surprising results. "Every scan is an adventure!" she says.

Barbara is a recently retired teacher who is also a songwriter and author. Nature has been a dominant theme of many of her creations. Her book of children's songs is subtitled "Nature Songs for Children" and her "wallaboo" children's stories are set in an imaginary world of nature. Twelve of her wallaboo stories have been recently published in two books (six stories in each) entitled The Wallaboo Stories and Wallaboo Land. (Click on the titles for more information.)

Barbara recently moved to Florida after many years of living in Maine. Her husband Charles, who passed away in 2005, was a geologist and a wonderful gardener, and many of the materials for her scans come from the plants just around her house in Maine. A lifelong collector of seashells, rocks, driftwood, etc., she also uses many of these "treasures" in her scans. Her three grown children are scattered around the country (Gretchen in Texas, Amy in Florida and Vincent in Sweden).
Barbara started Sunflowers for Health in 2005 after her husband's death from melanoma cancer. She has donated many cards and other items through this part of Naturescan to organizations committed to fighting this disease.
NatureScan prints, notecards and other products can be found in the following galleries or retail stores:
Blue Hill Bay Gallery
Blue Hill, Maine
Ding Darling Nature Store
Fields Pond Nature Center
Holden, Maine
Calusa Nature Center Store
Fort. Myers, Florida
Page Farm Museum Store
University of Maine, Orono
UCBotanical Gardens Gift Shop
Berkeley, California

Olde Crows Cottage
Harborside, Maine

Haggin Museum Gift Store

Stockton, California

Tarpon Bay Explorers Gift Store

Sanibel, Florida


Unique Boutique

Cape Coral, Florida